Home » Digital Camera Restore
Digital Camera Restore
Digital Camera Restore software provide easy way to recover your images, pictures, photos, snaps, audio/video clips lost due to:
Digital Camera Restore utility support all major picture file formats including jpeg, tiff, gif, avi, png, bmp, 3gp, and other similar file formats. User-friendly supported software provides thumbnail preview of recovered images and saves it to user specified location.
Formatted media
Corrupted or reformatted media drive
Accidental deletion
Software malfunctioning
Human error and other similar reasons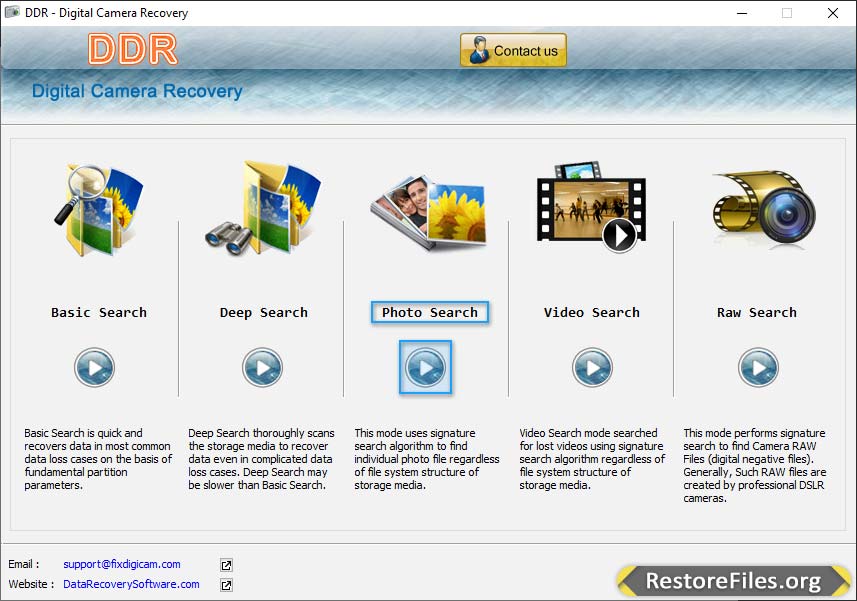 Software Features:
Recovers lost or deleted pictures files and folders from corrupted digital camera.
Restore digital pictures due to unexpected system shutdown while transferring data from digital camera to PC.
Support all major digital camera including Compact digital camera, Line-scan camera, Specialty camera, Point and shoot camera, Mini camera and other equivalent digital cameras.
Provides attractive and user-friendly GUI interface and no prior technical skills is required to operate the software.
Easy to use for both technical and non technical users.
Supported Digital Camera Brands:
Sony, Kodak, Konica-Minolta, Epson, Pentax, Canon, Casio, Fuji, HP, Kodak, Nikon, Olympus, Panasonic, Samsung, Ricoh and more.